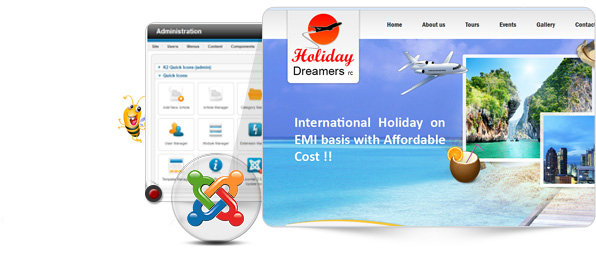 JOOMLA WEB DESIGN
Joomla is a content management system (CMS) open source software that allows you to quickly develop Web sites, Internet portals, blogs and online stores. CMS Joomla has a convenient interface that allows you to easily manage large volumes of information. The system is applicable to any organization to create a publicly accessible Web pages, and internal web portals.
FEATURES OVERVIEW
Database

It store content by using the database.

modules

User can add new features and modules to the site.

design

User can do changes to the visual design web pages.

Joomla works

Joomla works on servers running different operating systems: Linux, FreeBSD, MacOSX server, Solaris, and AIX.

User Management

The user manager allows you to create new users and to edit existing users. You can also use this interface to define what permission groupthey belong to, which defines what they can and can't do on the site.

Media Manager

The media manager is a tool to organize images, videos.
Language Manager

There is international support for many world languages and UTF-8 encoding. If you need your Web site in one language and the administrator panel in another, multiple languages are possible.

Content Management

You can create, edit, publish, unpublish, archive or delete articles using the user friendly Joomla interface. Joomla system gives you total control over your articles.You can Upload Images, Documents and Videos to your articles.Organise your articles into Sections and Categories.You can also define publishing & unpublishing dates.

Menu Manager

The Menu Manager allows you to create as many menus and menu items as you need.

Template Management

A template controls the overall look and layout of a site. Templates are of two types, front-end & back-end. A template provides you the framework that brings together common elements, modules and components as well as providing the cascading style sheet for the site.

Web services

With Web services, you can use Remote Procedure Calls (via HTTP and XML). You can also integrate XML-RPC services with the Blogger and Joomla APIs.