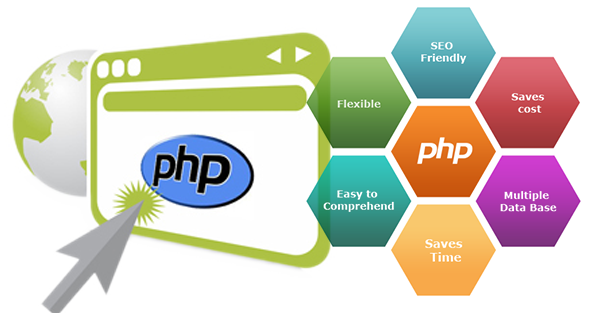 PHP DEVELOPMENT
PHP stands for Hypertext Pre-Processor, which means this language holds the capability to process all the data received from the client's side or user side before sending back as a hypertext.It is an open source scripting language which is used to develop dynamic websites.
FEATURES OVERVIEW
Open Source

Open source is a computer program in which the source code is available to the general public for use and modification from its original design. Similarly source code, development,environment etc for php are freely available.

Simple & Easy

PHP developed websites or applications have much simple code to write or understand. Complexion is very less as compare to competing technologies for developing web applications or dynamic sites.

Platform Independent

It is platform independent, because it can run on the most common operating systems like Linux, Unix, Mac OS X, Windows.

Enhanced graphics

It can be used to generate images with a constant change or at run-time. Using the image functionalities, more number of image formats could be supported in a website or web application.

Fast browsing

PHP applications provide a fast browsing experience due to the reason that all the processing is performed at the server side.
Secured website

Provides a more secured website due to its high quality process of converting data or information into code.Applications safety is another advantage so that the application code cannot be interfered with something to cause damage.

Database

Most important benefit is that it can manage a lot of databases.

User friendly

One more big benefit of using this language is that it is very user-friendly as compared to other popular languages such as ASP.net, C, C++ and classic ASP.

PHP frameworks

There are many frameworks available that take care of other regular functions like admin back end, content management, member management , search function, etc.These ready made framework helps a developer to build a site as per your requirement without writing the code repeatedly.

Frameworks

CodeIgniter , CakePHP, Yii, PHPDevShell, Prado, Akelos, ZooP, QPHP, Symfony, Zend.